What is Interpreters United, Local 1671, WFSE/AFSCME Council 28?

Local 1671 of the WFSE/AFSCME Council 28 is the labor union for interpreters providing services for the State of Washington.
Our union movement began in the fall of 2009 in response to medical and social service spoken language interpreters' frustration with the 'broker system' delivery model, unfair treatment and substandard pay. At first this was just a few people and has now grown to more than 1500 active Interpreters representing many languages around the State!
A survey of our membership conducted in 2016, revealed that interpreters are a highly educated majority female and majority immigrant workforce.

2016 Spring Survey Report.pdf
Interpreters United is a part of the Washington Federation of State Employees (WFSE). WFSE is the largest labor union for public service workers in Washington State with 40,000 members. WFSE is part of a nationwide Union called AFSCME (American Federation of State County Municipal Employees) which has 1.6 million members nationwide. WFSE is also known as AFSCME Council 28.
OUR UNION
AFL-CIO
American Federation of Labor - Congress of Industrial Organizations
≈12.5M members in 56 Unions www.aflcio.org
Umbrella Federation for U.S. Labor Unions
IRS 501(c)(5) Non-Profit Organization
↓
AFSCME
American Federation of State, County & Municipal Employees
≈1.6M members in 58 Councils www.afscme.org
National Non-Profit Organization
↓
AFSCME Council 28
Washington Federation of State Employees
≈40,000 members in 52 Locals www.wfse.org
State Non-Profit Organization
↓
Local 1671
Interpreters United
Statewide Non-Profit Organization
What were conditions like for most interpreters in 2009?
Interpreters paid only $21 per hr - or less!
Middlemen (Agencies & Brokers) took an average $24.90 (42%) PER APPOINTMENT!
Required 15 minute back up logs if you went over the scheduled time;
No pay for cancellations;
No pay for parking or tolls;
No mileage (some interpreters did get full mileage, but it depended on your agency).
Watch this powerful video of AFSCME members about why to organize, featuring our one of our own interpreters!
Over the past years we have had amazing victories, including:
Saving $16 million in state and federal funding for the medicaid interpreter program when it faced elimination in the Governor's 2010 budget, and again when it faced elimination twice in budgets in 2011. United we saved the optional state program for about 200,000 interpreted appointments per year serviced by approximately 2000 interpreters in dozens of different languages rendered at hundreds of healthcare providers offices. United we protected language access services for Limited English Proficient individuals!

Passing an historic bill 2010 ESSB 6726 granting union rights to independent contractor interpreters for the first time in our nation;

Holding a forum with state officials from DSHS and the Governor's Office of Financial Management (OFM) where over 200 interpreters from around the state gave testimony about the current problems and offered solutions for future improvements to the language access program;

Winning a Union election with interpreters voting 95% UNION YES!

Winning the only state contract for independent contract interpreters in the nation!

Stopping language agencies from violating our first union contract by suddenly imposing 'shipping and handling fees' on our paychecks!
By working together, we can improve the interpreting profession - for ourselves, providers, and the people we serve!
Join us to restore professional pay, benefits and respect to interpreters.
Learn more about Interpreters United by reading our news and checking out campaigns under the "take action" section of this website. You can also join the conversation at www.facebook.com/InterpretersUnited. Contact us at local1671 [at] gmail.com.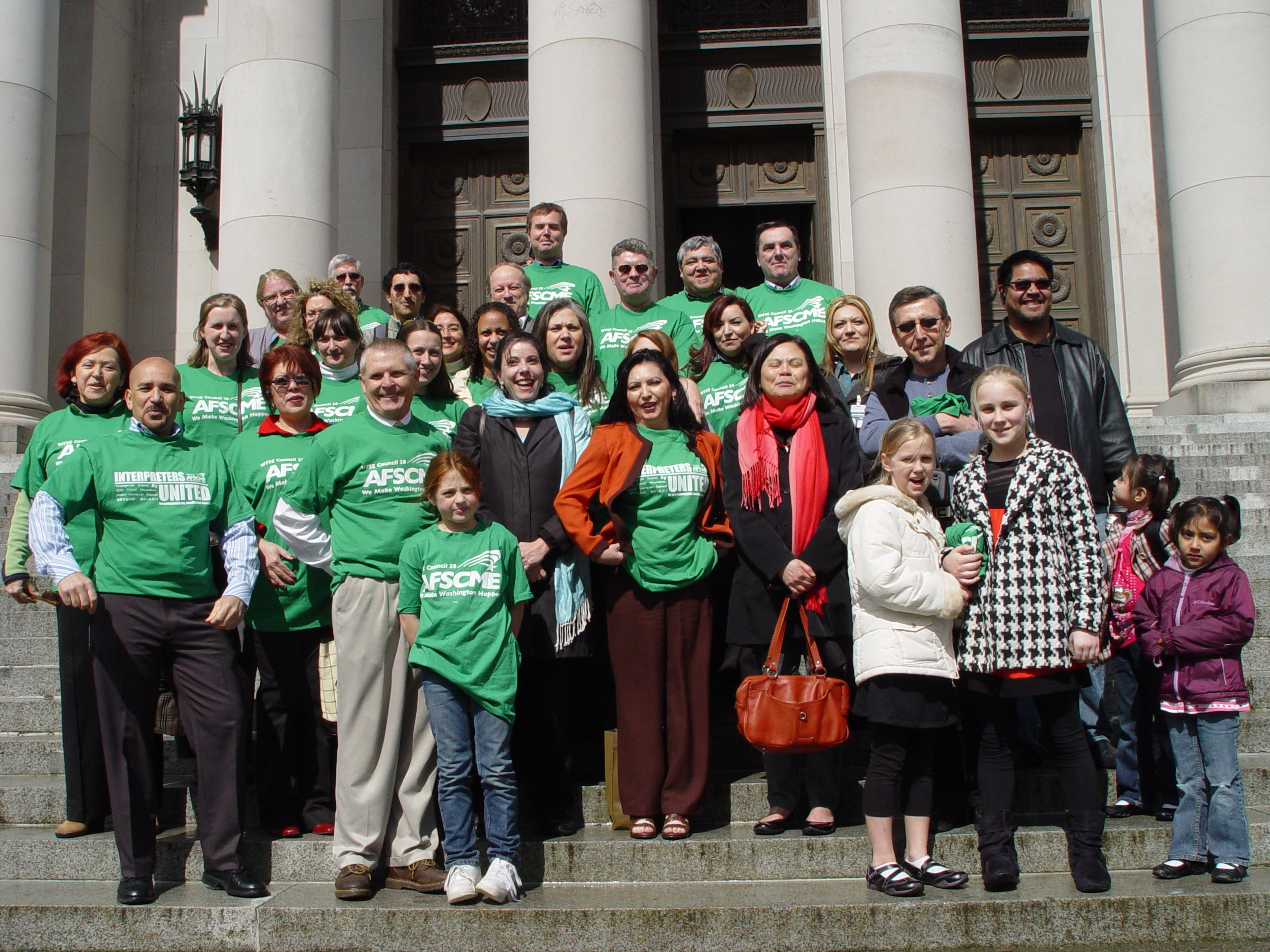 Download:

2016 Spring Survey Report.pdf